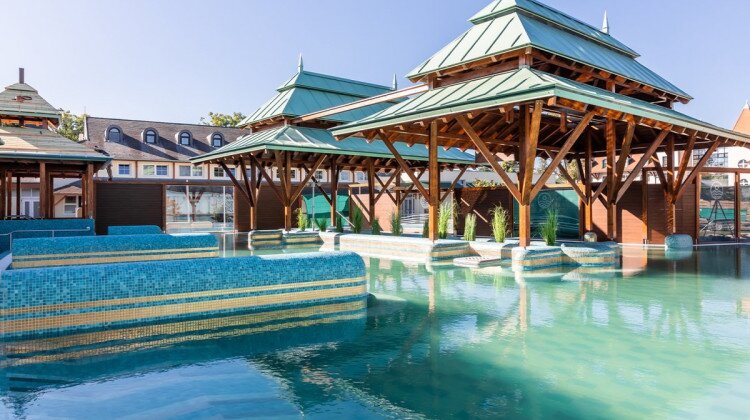 Flexum Thermal & Spa
Discount:
With 48-hours-GyőrCard discount from the adult and family ticket prices
Please be aware that according to the epidemiological regulations, adults over the age of 18 can only enter our spa by presenting a COVID vaccination certificate. Please make sure you have the document before you buy your ticket.
In our more than 50-year-old spa in Mosonmagyaróvár, there are currently seven swimming pools with different water temperatures, huge green spaces, impressive interior relaxation areas, countless sun beds and high-quality restaurants and buffets are waiting for our guests.In spring 2020, we will introduce our new medicinal pool which meets all needs, with one of Europe's TOP 5 most effective thermal water and we will open the interactive playland and kid's pool created for children and families.It is located in on the Austrian and Slovakian border, 160 kilometres from Budapest, 80 kilometres from Vienna and only 30 kilometres from Bratislava.
---
Discounts:

Operation hours
Regular
Mon - Sun: 12:00 PM - 8:00 PM
Next days
9/26/21: 12:00 PM - 8:00 PM
9/27/21: 12:00 PM - 8:00 PM
9/28/21: 12:00 PM - 8:00 PM
9/29/21: 12:00 PM - 8:00 PM
9/30/21: 12:00 PM - 8:00 PM
10/1/21: 12:00 PM - 8:00 PM
10/2/21: 12:00 PM - 8:00 PM
10/3/21: 12:00 PM - 8:00 PM
10/4/21: 12:00 PM - 8:00 PM
10/5/21: 12:00 PM - 8:00 PM