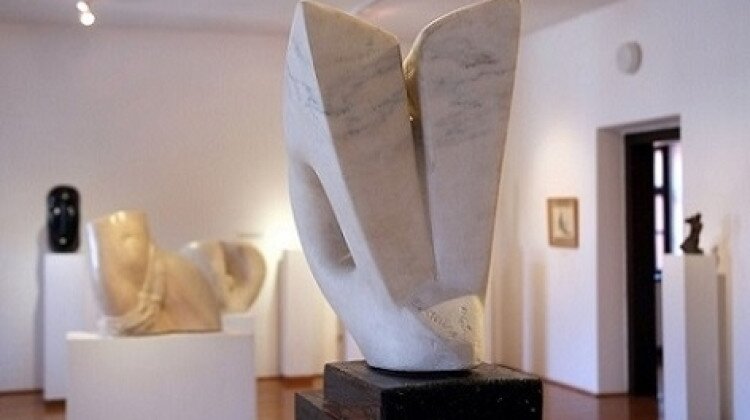 Bishop's Courthouse, Borsos Miklós Permanent Exhibition, Csikóca Art Workshop and Exhibition Centre (Rómer Flóris Art and Historical Museum)
Tags: Free entrace, Discount
Discount: Optional free admission / 50% discount of the ticket's price
The Bishop's Courthouse was built in the XV. century in Gothic style, and that makes it one of the oldest buildings of Győr. The oeuvre-exhibition of Borsos Miklós (1906-1990), the modern Hungarian sculptor, can be visited here since 1979. His work ranged from drawings and paintings through all the forms of plastic art to medal art. He created illustrations for dozens of literary works. Besides the modern style he expressed the polarity of life in different styles, such as Classic, Naturalistic, and Abstract, contrasting harmony and love with fight and death.
The Children's Museum in Csikóca Art Workshop and Exhibition Centre - opened to the public in2010 - provides not only a great 'visiting a museum' experience, but joyful workshops, fun and entertainment for children and their families. The young and the old ones can get to know the techniques of fine- and industrial art in the interactive art workshop with the aid of professional museum educators and artists, and they even have the chance try them by creating their own works of art.
---
Insured discounts for GyőrCard holders: Optional free admission or 50% discount of the ticket's price

Original price for adults: 2500 Ft
GyőrCard-price: 1250 Ft
Original price for children: 1250 Ft
GyőrCard-price: 625 Ft
---
To visit any exhibition of the Rómer Museum with GyőrCard, first you have to start the visit in the building of Eszterházy Palace. After scanning your card, you can get your tickets here for the other permanent exhibitions.
Operation hours
Regular
Mon: Closed
Tue - Sun: 10:00 AM - 6:00 PM
Next days
9/20/19: 10:00 AM - 6:00 PM
9/21/19: 10:00 AM - 6:00 PM
9/22/19: 10:00 AM - 6:00 PM
9/23/19: Closed
9/24/19: 10:00 AM - 6:00 PM
9/25/19: 10:00 AM - 6:00 PM
9/26/19: 10:00 AM - 6:00 PM
9/27/19: 10:00 AM - 6:00 PM
9/28/19: 10:00 AM - 6:00 PM
9/29/19: 10:00 AM - 6:00 PM